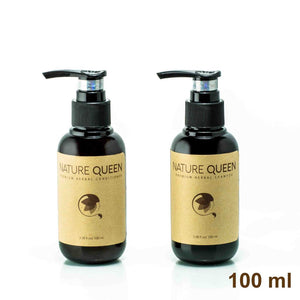 NATURE QUEEN SHAMPOO
Nature Queen shampoo with ingredients from nature, is a unique combination from the extracts of Lemongrass, Huong Nhu, Bodhi, Betel nut, Cuc Nac, Grass sleep, Radial mind ... ..
 Bodhi, rosemary, patchouli helps you to have healthy shiny hair, relaxing your scalp and hair roots.

 Mulberry peel helps reduce hair loss and stimulate hair growth.

 The betel nut and the linden grass have a cleansing effect on the scalp, creating a feeling of lightness and helping the hair naturally borrow smooth.

 The five colors, which contain natural antibiotics, are good for skin inflammation, and anti-fungal help prevent dandruff, creating a feeling of soothing for the scalp.
Help:
HAIR HAIR AND HAIR CARE

HEAVY HAIR SHEETS.

SOFT, RELAXED FOR HEAD
Nature Queen shampoo is safe and gentle for adults and children.
NATURE QUEEN CLEANSER OIL
PRESENTATION :  Bottle of 100ml
INGREDIENT:
Coconut Oil, Avocado Oil, Jojoba Oil, Argan Oil, Essential Oil and other ingredients
USES:
The combination of naturally derived ingredients (Coconut Oil, Jojoba Oil, Avocado Oil, Argan Oil and Essential Oils) makes hair healthy, naturally fluffy, soft and shiny from base to tip. .
STORAGE: Avoid direct sunlight. Avoid getting water into the bottle.
CAUTION : Avoid direct contact with eyes. In case of eye contact, wash immediately with clean water!
DISCLOSURE NUMBER: 
NQ Shampoo:  62.20 / CBMP-Hna
Conditioner NQ : 71.19 / CBMP-HNa