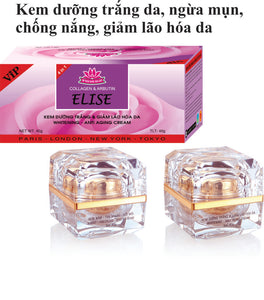 Our Shop is authorized to supply products to all countries in the world.
We ship between 10-21 days depending on the region.
The shipping unit is USPS of USA,
We will provide tracking number for the package.
Please contact us via email: linhnguyen231083@gmail.com
We will respond quickly.
When you need to contact, please call us at the phone number:
Phone USA: +1 760 689 9475 and WhatsApp (LinhNguyen)
Phone vietnam: +84 090 692 9066
Skype ID: linhbalon
Add Zalo / Viber: +84 090 692 9066 / Linh Nguyen

Mô tả:
Kem dưỡng trắng - ngừa mụn - chống nắng - giảm lão hóa da là loại mỹ phẩm thích hợp cho phụ nữ Phương Đông được kết hợp từ nhiều hoạt chất có tác dụng dưỡng trắng da sau vài ngày sử dụng, bảo vệ da khỏi tia cực tím và các yếu tố nguy hại cho da. Ngoài ra, sản phẩm còn giúp ngừa mụn, giảm lão hóa da đồng thời giúp ngăn ngừa sự xuất hiện các vết đồi mồi.