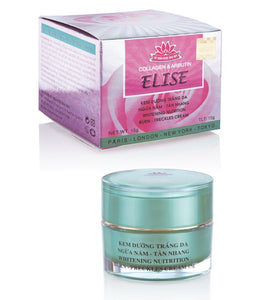 Our Shop is authorized to supply products to all countries in the world.
We ship between 10-21 days depending on the region.
The shipping unit is USPS of USA,
We will provide tracking number for the package.
Please contact us via email: linhnguyen231083@gmail.com
We will respond quickly.
When you need to contact, please call us at the phone number:
Phone USA: +1 760 689 9475 and WhatsApp (LinhNguyen)
Phone vietnam: +84 090 692 9066
Skype ID: linhbalon
Add Zalo / Viber: +84 090 692 9066 / Linh Nguyen

Mô tả:
Kem dưỡng trắng da ELISE ngừa nám và tàn nhang làm mở dần các vết nám cũ, ngăn chặn tế bào gây nám mới đang hình thành. Sản phẩm này đã được đặc chế với công thức đặc biệt bởi phối hộp nhiều chất chiết xuất từ thực vật và các dưỡng chất khác giúp da lấy lại tính đàn hồi, làm cho da trắng mịn và giảm sẹo do nám và tàn nhang để lại, se khít lỗ chân lông giúp da trắng hồng tự nhiên.